A while ago I bought an old Bell Kawasaki racing helmet on eBay. I got a tip from my friend Stefan, and thought it would look cool together with the H1R. So, I put in a bid of max 125 bucks and got it for 113 or something like that. Nice!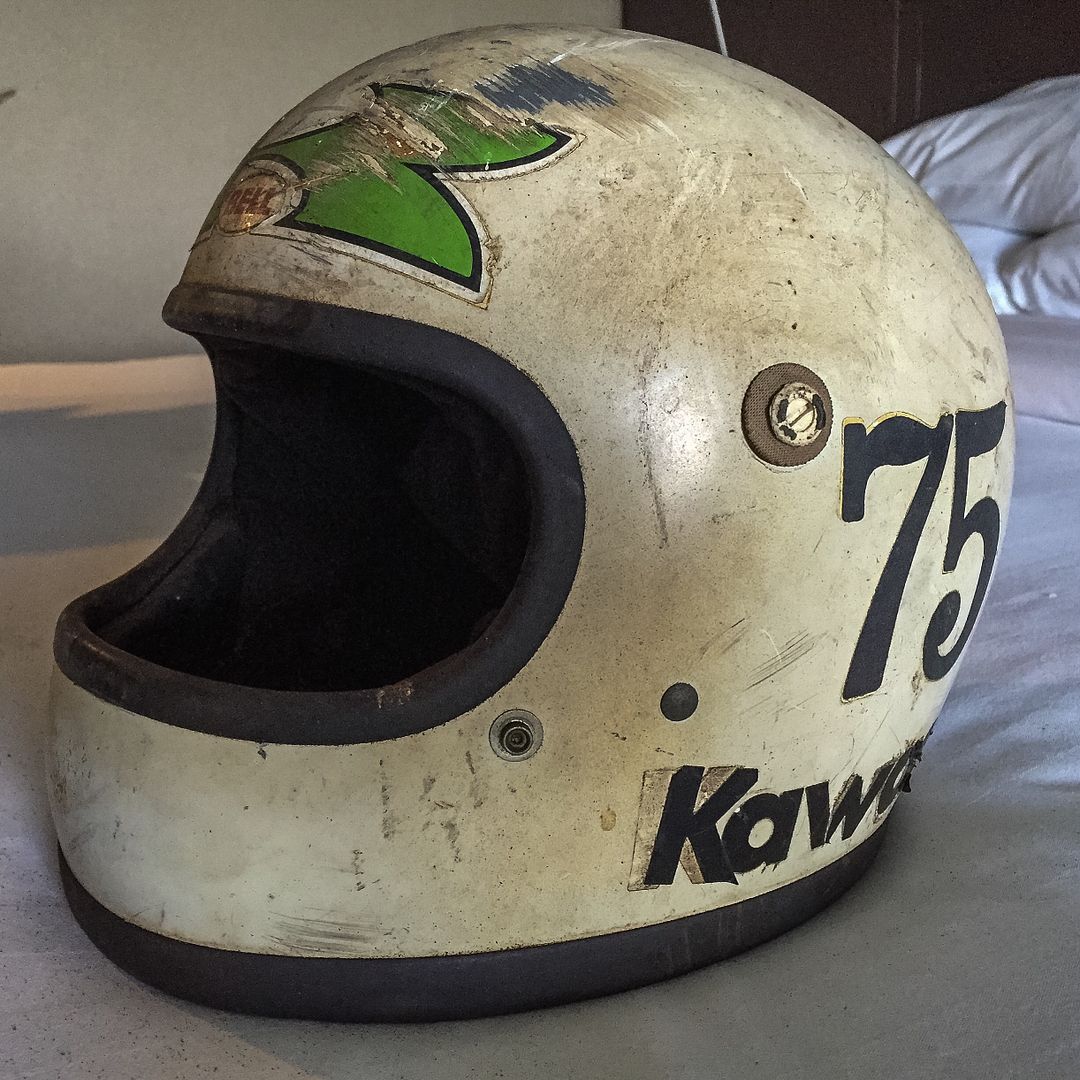 BELL Kawasaki racing helmet #75.
I think it fits quite perfectly together with the bike, sitting there on the tank...
The Bell helmet on the tank.
They both look sort of rugged and beaten up. Since I know a great deal of the bikes history I started thinking about the helmet´s. Who used it? when was it crashed? Wouldn´t it be wonderful if it could tell it´s story?
OK, How to go about that? I tried a post in a Facebook group I´m a member of. "Kawasaki Racing 2-strokes". Well, it took less than 6 hours and the story was there!
It was used by an american driver, Kurt Lentz, who raced Kawasaki H2R:s during the seventies. What are the odds....??
Finding the user of such an odd piece of racing history? A search over the internet turned up a few cool pictures. They are all borrowed from Ralf Kraemer at Triple klinik in Germany, Thanks!!
Kurt actually told the story about the crash in the comment field on my FB post.
- "
Broke my neck and landed in the pond almost drowned, Loudon, New Hampshire - June 13, 1976"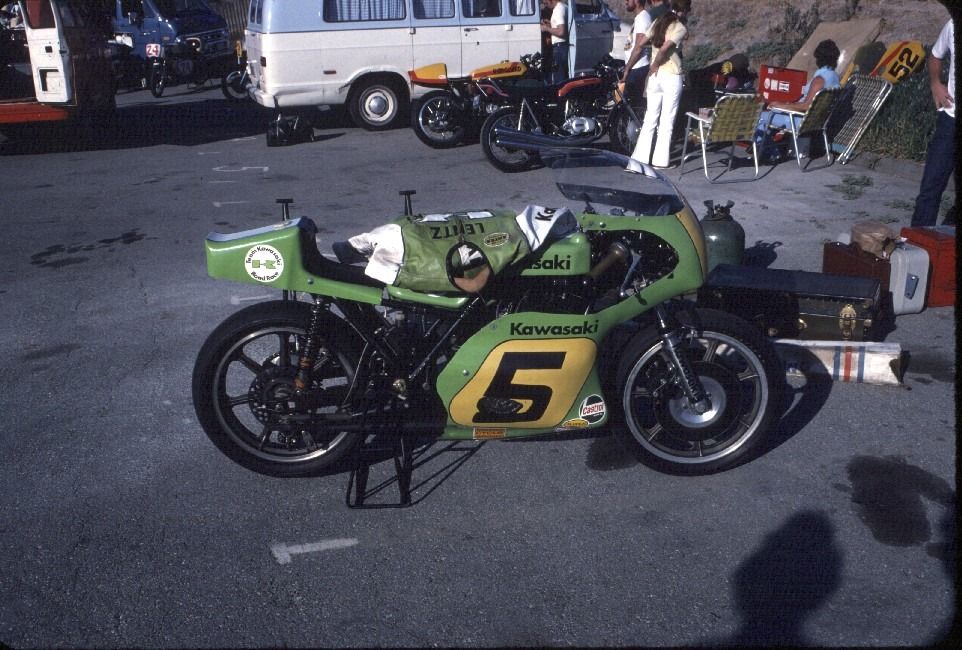 The first picture is from Laguna Seca 1975 and we can see his Racing gear on the bike. No helmet here, though... But the H2R sure looks god!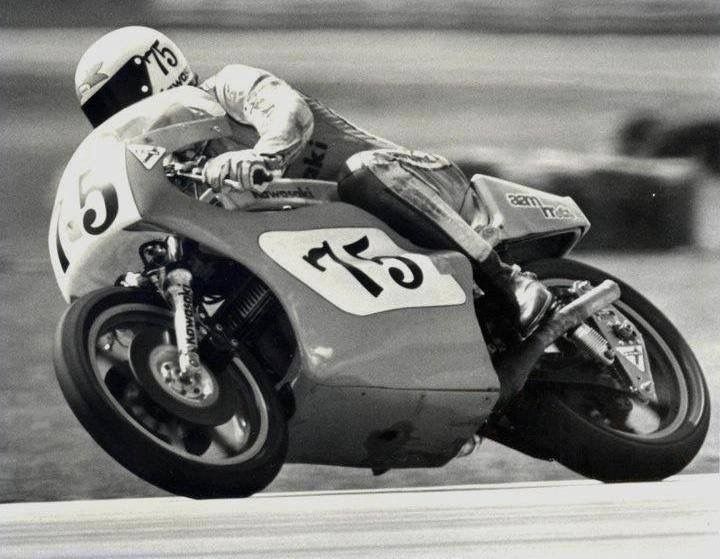 Here´s Kurt on his H2R at Daytona 1976. Check out the helmet!
You can also see the special Parallelogram swing arm, Called "FUBAR", that was used on a couple of H2R:s and also a couple of KR750. The purpose of that thing was to minimize the change in geometry for the chain. The rear wheel can move up and down without changing the distance between the front and rear sprocket. I´m nor sure if it was a success... That story can be told by someone more knowledgeable than myself. However, I can´t keep these pictures away from you in this little story excursion of the blog....
Here´s the same bike a few years after. See the swing arm is still intact.... It was sold and then restored by its new owner.
Today it looks like this! The "FUBAR" removed, which is actually a shame, since it was quite a unique thing....
Anyway, back to the helmets... I came into contact with some people that know Kurt and was told he also bid on that eBay auction. I was the winner, though. Some even thought it should be returned to Kurt. Well, I do agree. That´s exactly what´s going to happen! And here´s why:
I met Irene Gunnarsson ("Essos´s" wife, remember.) again a couple of days ago. We went and looked at some more pictures and stuff after "Esso". Irene is the most wonderful, kind and warm person you can imagine. We sat in her basement for a couple of hours looking at pictures, discussing this and that, whatever came up in the albums. She is a living dictionary when it comes to details, names and places where she and "Esso" went. She even knows most there is to know about his earlier racing career. A couple of very well spent hours! I could even borrow a few albums with interesting pictures of my bike, "Esso", his dogs and his girlfriends (he had a few...). Later,
when I had to leave she said:
- "I think you should have his old helmet. It belongs to the bike, and I think you should have it!"
Isn´t that wonderful! That is such a precious gift. Thank you, Irene!!


So, this little adventure in helmets ended up with me learning about an american racer with a very interesting history and a very cool bike plus the H1R being reunited with the original helmet!
Not bad for a couple of days work....

The collection of parts keep moving on. I´ve found some rubber and electrical parts that are currently on their way home. Some parts are actually common street bike parts and thus much easier to find and buy. The extremely rare special stuff is a completely different story. If you find something its probably going to be very expensive or so rare it´s only available after trading with something equally difficult to get. It´s quite a new world for me....

As usual, Thanks for reading!